Springbok Women excited to be measured against Baabaas
rugby
22 September 2023 12:45
| © SuperSport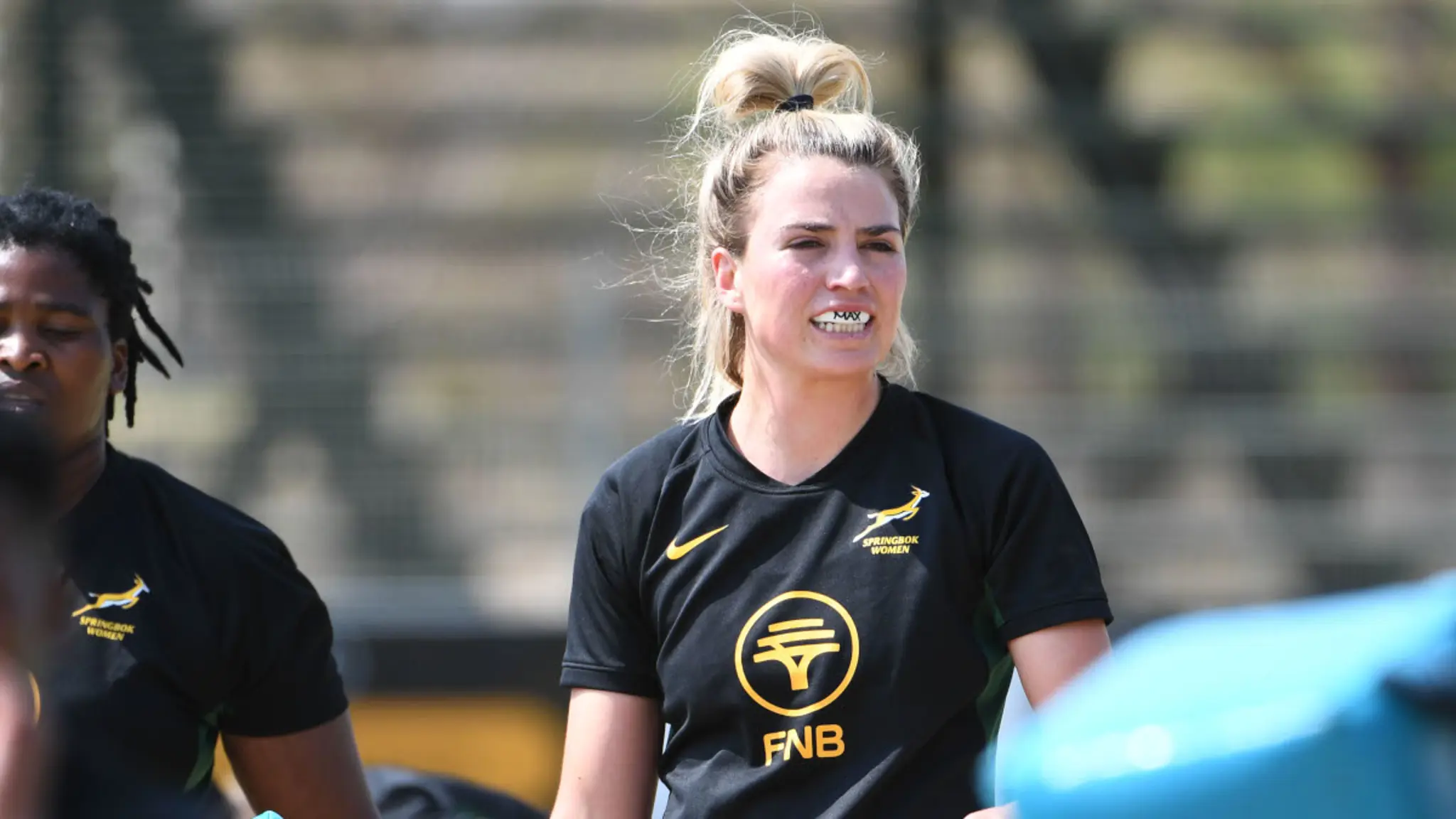 It will be a reunion of sorts for Catha Jacobs at Athlone Stadium on Saturday when the Springbok Women No 8 lines up for her country against the Barbarians in what she believes will be a highly entertaining match to watch.

Jacobs was in the South African squad that last played against the Baabaas in December 2021 at Twickenham, a match the famous club in white and black jerseys won handsomely.
Few knew at the time how the Springbok Women were severely disadvantaged when the match was moved forward a couple of hours and the logistical nightmare that followed when the clash between the men's sides of Samoa and the Baabaas was cancelled, and the women's game moved into that time slot.
In the end, the Springbok Women had to be rushed from their hotel, got stuck in traffic and only had 20 minutes to warm-up before playing the star-studded team, who showed no mercy and exhibited their craft, especially in the first half of that match.
Saturday's match in Cape Town will be different though, Jacobs insisted.
"We are better prepared and will have more than enough time to warm-up and prepare for the match," said Jacobs. "It is also not the same team than way back, we are stronger in many areas."
Jacobs stayed behind in England after the Baabaas game on a short-term deal with London Irish. She was granted permission to trial with Saracens, was signed by the prestigious club and by the end of the 2022 season, she could celebrate the Allianz Premiership title with the rest of her new teammates.
"Winning the Premiership was a highlight," said Jacobs, who will don the colours of Leicester Tigers Women when she returns to England after WXV 2 in October.
"I have played against some of the current Barbarians players and know their styles and strengths, whereas in 2021, we knew very little of that team.
"Currently we have me and Babalwa (Latsha), who plays for Harlequins, as well as Amber (Schonert, Sale Sharks Women) and Aseza (Hele, Harlequins) also in the Premiership, so we are much more aware of what the Barbarians will bring.
"Despite that, it will still be a very entertaining afternoon for us, as they always manage to come up with something crazy and unexpected," Jacobs said with a huge smile.
"We are expecting a lot of passing and tactical kicking behind our defensive line, but the best tactic for us will be to play our own game and not focus on them."
Jacobs recovered from a shoulder injury sustained at Saracens earlier in their season and made a meaningful contribution in last weekend's clash against Kenya, starting at the side of the scrum. On Saturday, she wears the No 8 jumper, with much anticipation on her side.
"I am in good physical health and very keen to play. It will be my first time at No 8 and I cannot wait. Lock and flanker are okay, but I always wanted to be a No 8," she smiled.
"My roles and lines in the team remain pretty much the same, so nothing will change much, but it will still be an exciting time for me playing in that position for the first time."
Latsha said the Barbarians will test the Springbok Women side's ability to adapt.
"They have this ability to change the pace and structure of the game," said Latsha, who will lead the South Africans from the front row.
"There is so much experience in their team and some of their players ranked amongst the best in the world, so it is going to be a great challenge, but also an honour to face them.
"This match will be a step closer to where we want to be for the WXV, so we need to use this opportunity."
Springbok Women interim head coach Louis Koen is expecting the Baabaas to play to the strengths of the assembled squad. They have players from Ireland, New Zealand, England, USA, Italy, Spain, Wales, Scotland with more than 600 combined Test caps amongst them.
"They will be strong up front and in Elinor Snowsill, they have a flyhalf with huge experience and a very educated boot," said Koen. "They will use that, no doubt. We are really privileged to host the Barbarians and one can only hope that we have a good crowd to come and watch a very entertaining and competitive game of rugby."
Baabaas head coach Sean Lynn (Gloucester-Hartpury) and assistant coach Siwan Lillicrap (Wales age group) have named England's Vicky Fleetwood to captain the tour side on Saturday.
Barbarians Women team:
1 Lindsay Peat (Ireland / Railway Union)
2 May Campbell (England / Saracens)
3 Ciara O'Connor (Ireland / Ponsonby Fillies)
4 Eloise Blackwell (New Zealand / Ponsonby Fillies)
5 Christiana Balogun (Bristol Bears)
6 Beth Stafford (unattached)
7 Vicky Fleetwood (captain, England / Saracens*)
8 Ciara Griffin (Ireland / UL Bohemians)
9 Ailsa Hughes (Ireland / Railway Union)
10 Elinor Snowsill (vice-captain, Wales / Bristol Bears*)
11 Megan Gaffney (Scotland / Heriots)
12 Patricia Garcia Rodriguez (Spain*)
13 Grace Steinmetz (New Zealand / Lincoln Uni)
14 Maria Magatti (Italy / Bennetton Rugby)
15 Elizabeth Goulden (Gloucester-Hartpury)
Replacements:
16 Jo Kitlinski (USA / Colorado Gray Wolves)
17 Elizabeth Crake (England / Trailfinders Women)
18 Kathryn Buggy (Ireland / Gloucester-Hartpury)
19 Ciara Cooney (Ireland / Harlequins)
20 Kayleigh Searcy (Sale Sharks)
21 Sara Barratin (Italy / Villorba Rugby*)
22 Gemma Rowland (Wales / Wasps*)
23 Katie Alder (Wasps)
* denotes retired
● The Kenya Lionesses and San Clemente Rhinos will play in a curtain raiser