Msomi proud of UJ growth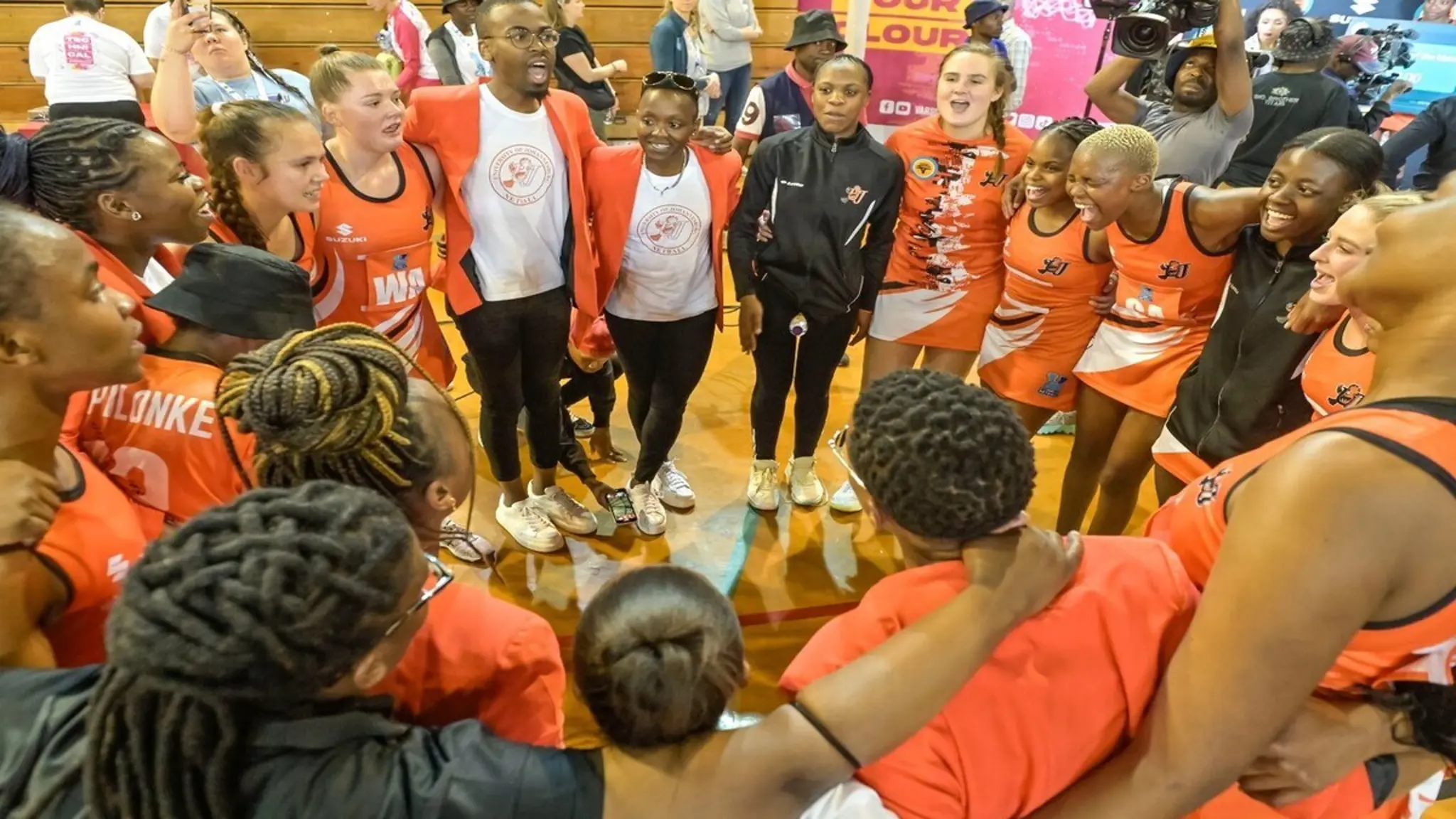 Bongiwe Msomi says she is thrilled that her dreams at the University of Johannesburg are coming to fruition.
The Spar Proteas captain joined the Gauteng based side after having had an impactful overseas career where she played in the Vitality Netball Super League in the United Kingdom for the now defunct Wasps Netball. 
She had also previously donned the colours of Surrey Storm in the NSL.
Msomi also played for the Adelaide Thunderbirds in Australia's Suncorp Super Netball.
After her second stint in the UK with Wasps, Msomi returned home to start a new chapter as a coach and netball manager at the university. 
Since taking over the reins in 2019, the Orange Army has qualified for back to back top four places for the first time since the launch of the Varsity Netball tournament in 2019.
Not only has UJ played in the semis, but they reached the final for the first time was they clashed with cross-town neighbours, the University of Pretoria.
Msomi's charges pushed UP-Tuks to the limits and the teams had to be separated through extra time after the game ended at 51-51 when the whistle went after the regular 60 minutes.
Tuks ended up taking the title by two goals, winning 63-61. 
#ShowYourColours for UJ🧡!

The Orange Army had an incredible tournament beating Kovsies, Maties and NWU on the way to the final where they held their own against Tuks and came back from 10 points down to draw the game at full time and only lost by 2 goals in extra time. pic.twitter.com/4Q0EGvd8oQ — Varsity Netball (@VarsityNetball) September 19, 2023
'IF YOU PUT IN THE WORK, YOU CAN GET THE RESULT'
Msomi although they didn't have it easy, she says she is proud of what her players could produce on the court. 
"I have to say credit to the girls. I had plans in my head when I came to UJ and to see them, this year, starting to materialise is really good. But they really had a tough time in this year's Varsity Netball. There were so many things that happened that at some point I was questioning if I would be able to keep their heads level because we needed that. They really stood strong and to play in their first final and play like they did, I cannot take this loss with a smile because I thought they were really good," says Msomi. 
The Gauteng Golden Fireballs captain says it had to take a whole team to see her ideas and hopes being implemented and coming to life. 
"The first idea was to make sure that we get the right girls in our system and to start creating a culture where we want to go with that group. As time went on, it was more them than me emphasising the culture. Everyone who came to UJ accepted them (ideas) with both hands and you could see the seniors standing strong and making sure everyone felt supported and at home.
"For me, any girl that comes to a netball space and feels they are well supported and that feels really good. They will play their best netball when they know they are supported. The culture of love, family, and unity, I see that at training and I could see that on the court. That is the stuff I have wanted to see over the years, credit to them because they are buying into it," she explains. 
Msomi credits her players for putting in the work on the court. Although players such as Nomfundo Mngomezulu, who didn't qualify for the Varsity Netball tournament this year because of the age restriction, and Tarle Mathe who is still recovering from a knee injury, were not part of this big feat, she says all the players contribute to the team.
She admits though that being consistent and putting in the hard work is what is changing the face of UJ netball.
The university's club has recently won Gauteng Netball Super League with their two players, Monica Gomases and Minentle Mayekisa, winning Overall Player of the Tournament and Best Mid-Court Player, respectively.
"The best thing to know is if you put in the work, you can get the result. Nomfundo has been selected for the Fast5 national side and that is something we cannot claim and say it's ours. It's the work they put in. I always say 'if you lead it's a choice for the people you lead to follow.' If they don't want to, they wouldn't and at this point, I can openly say these girls are following everything we are trying to put out.
"But I have to say I can't do this alone, I have so many commitments. The team that I work with is an amateur team but they are committed to our programmes which helps. When I am not there, I know they have got my back. Each and every one of them has been fantastic in their roles.  
To think of a Sammy (Owethu Ngbane) having a crack at an international side, the first international player coming from UJ, that opens doors (for others). I feel like we keep ticking boxes that we never thought we'd open but I think it's the awesome God we serve," she says.