Everyone's favourite, Gerda Steyn is back for the 2023 Comrades Marathon and has to be the favourite for not only a win but also a shot at the long-standing record of Frith van der Merwe of 5:54:43 set in 1988.
Steyn has already smashed the Up Run best time when she finished 17th overall and clocking 5:58:53 – some 11 minutes faster than the previous best time set by Elena Nurgalieva (6:09:24).
Steyn missed the 2022 race as she was focusing on the New York Marathon which was only 3 months after Comrades (August last year). But she has made no bones about the fact she will be back this year and has only one objective, to make a massive statement. Few will bet against her not only winning but also shattering Van der Merwe's Down Run best time. If she does, then she will have taken the second of Van der Merwe's long standing best times after winning Two Oceans in 2022 in a new record time of 3:29:45. Steyn boasts a faster marathon time than Van der Merwe in her heyday (2:27:36). Steyn ran the SA Record of 2:25:28 in 2021 and has also run under 2:27 on two occasions.
Ann Ashworth (Hollywood Athletics Club)
Ashworth ran 2:39:47 in the Seville Marathon in February this year. It is her second fastest marathon behind her 2:35:47 run in Valencia in 2018, the same year in which she won the Comrades Marathon. An injury-free Ashworth is dangerous. She too has made it clear that her focus for 2023 is the Comrades Marathon and that run in Seville will have boosted her confidence substantially, especially after having struggled with an injury in December. With her 2:35 personal best and her recent 2:39 run in Seville, Ashworth is one of the fastest ladies in the race and has to be a contender, if not a favourite to once again stand on the podium at Hollywoodbets Kingsmead come 11 June. Winning in 2018, Ashworth clocked 6:10:04, more than 7 minutes faster than the winning time of Alexandra Morozova in 2022. That and her 2:39 marathon will give Ashworth a big amount of confidence. Ashworth knows the route well, having lived in Durban for a couple of years before moving back to Johannesburg recently. She will have done numerous training runs on the route during her time in Durban and will use that knowledge to her advantage.
Alexandra Morozova (Russia) 1st, 2022
Last year's winner was the fastest in the field in 2022 over the marathon and ran a well-judged race to win the title, crossing the line in Moses Mabhida Stadium in 6:17:48. She let the inexperienced Adele Broodryk go in the early stages of the race as Broodryk was in fact on record pace. In the second half of the race, Morozova passed both Broodryk and Dominika Stelmach to win The Ultimate Human Race in four attempts. Her previous three attempts saw her finish second on debut in 2017, third in 2018 and second again in 2019. Morozova boasts a marathon personal best of 2:32:44 and she and Ann Ashworth will more than likely be in a titanic battle for a spot on the podium. Morozova has an insatiable appetite for racing which could cost her. In 2022 between January and Comrades in August, she raced the marathon four times. So far in 2023, she has already run in the Buri Ram Marathon in Thailand on 21 January (2:36:20), the Khon Kaen Marathon, a mere 8 days later and clocked 2:49:07. This after running two marathons in a week in December (all in Thailand). All this racing could well cost her in the long run.
Dominika Stelmach (Poland) 2nd, 2022
This will be Stelmach's third attempt at The Ultimate Human Race after a 5th in 2019 and second in 2022. The Polish athlete is another tough runner who fights to the last. She too loves to test herself. What makes her second in 2022 so remarkable is that Comrades was her 7th major race for the year. All of them ultramarathons, everything from a 24-hour race to 100 miles to 80km. In fact that 80km race, the Ultramarathon ChudyWawryzniec 80km was a mere 15 days before Comrades. One wonders what she could have done had she been on fresher legs. Already in 2023 Stelmach has run a 24-hour race, the
Spartanion 24-Hour Race (ISR) on 5-6 January, where she finished 10th. Stelmach boasts a marathon best of 2:36:45 run in 2021. So she too will be a close contestant to Ashworth and Morozova and the battle for the women's podium may well be more intense than that of the men, so closely matched are the women.
Adele Broodryk (Nedbank) 3rd, 2022
Third on debut at the Comrades Marathon takes some doing; but that is exactly what Adele Broodryk did in 2022. And one wonders what she could have done had she not shot off like the proverbial bolt in the early stages of the race. Broodryk will no doubt be much wiser in 2023 and has been very public about her desire to win the race; just as in 2022, when she won the Om Die Dam Marathon.
Not quite as fast as in 2022 where she was seconds off from breaking the record (Broodryk ran 3:23:48), but still fast enough to make a statement that she is once again in shape. The 32-year-old finished in 3:31:10, ten minutes ahead of Annerie Wooding (another contender for Gold in 2023). It has already been a busy season for Broodryk though after she finished 7th in the Nedbank Runified 50km (3:18:03) and she has confirmed she will be racing in the Two Oceans Marathon. With Comrades back in June as opposed to last year when it was in August, the recovery time between the two premier ultramarathons in South Africa is substantially closer than in 2022. How Broodryk manages that will be of interest but you cannot write off the woman who was the first South African across the line in 2022.
Galaletsang Mekgoe (Nedbank) 5th, 2022
Mekgoe could be a serious challenger to improve on her 5th from 2022. Entering as a novice in 2022, Mekgoe was part of the training group of Dave Adams who masterminded the clean sweep in the men's race. At 26, Mekgoe has lots of time to improve on her 5th from 2022. What also needs to be noted is that her performance is the best by a black woman since the race was opened to all in 1975. Mekgoe's secret to her success was the visualisation she employed in her training as she saw her male compatriots speed off in the distance. Mekgoe was 11th at this year's Runified 50km, clocking 3:33:23. It may be a bit slower than her time of 2022 (3:30:24), but then Comrades is in June this year as opposed to August from last year, so her preparations will be slightly different. She will no doubt take heart from her run in this years Runified. All indications are that she will once again line up undaunted and will look to make history again.
Camille Herron (USA) 6th, 2022
You just cannot discount the American to finish in the top ten. A former winner (2017), Herron is a legend in the ultramarathon world, racing in Ultra Trail, Ultra Road and on the track. Her most recent endeavour on the tracks was to set a world record over 48 hours. Herron covered 435.336km in the allotted 48-hour period at the Sri Chinmoy 48 Hour Festival in Australia from 23-25 March. In so doing, she not only set a Women's World Record but also bested the Men's US 48-hour record. Herron may be competing more and more in the 100mile and beyond arena, though that doesn't mean she should be discounted from picking up one of the 10 gold medals on offer at this year's Comrades Marathon.
Caitriona Jennings (Ireland) 3rd, 2019
The Irish woman is another who will be in the running for a gold medal and even challenge for the top placings. Third in 2019, Jennings as recently as August 2022 set a National Record in the 100km, clocking 7:07:16. Jennings can regularly be found on the podium at the races she enters. In 2022 she competed in 5 ultra races, ranging from 50km to 50-miles to 100km. On each occasion she found herself on the podium, with two wins, two runner-up positions and one 3rd place. Included in those wins were the European 50km Championships and the 100km World Championships in Berlin.
OTHER CONTENDERS:
Annerie Wooding (Murray & Roberts) 9th, 2022
Wooding finished second at this year's Om Die Dam, always a good indicator of who will be in the mix for The Ultimate Human Race. Wooding finished 9th in 2022 and will be looking to improve on this in 2023. Helena Joubert finished in 7th position in 2022 and like Wooding, she will once again be looking for a top 10 finish and all has the pedigree to deliver come race day.
The 96th Comrades Marathon will be run on Sunday, 11 June 2023, starting at the Pietermaritzburg City Hall at 05h30 and ending 12 hours later at the Hollywoodbets Kingsmead Cricket Stadium in Durban. The distance will be 87,7km. This will be the 48th Comrades Down Run.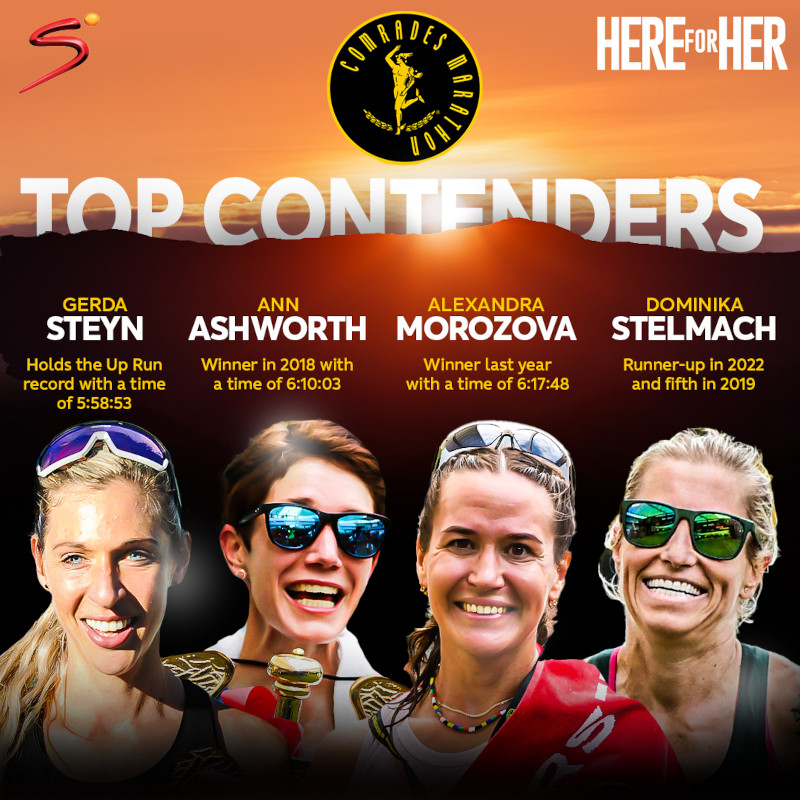 MEN:
In 2022, the Nedbank Running Club forever changed the dynamics of racing the Comrades Marathon. Onalenna Khonkhobe, the young runner from Klerksdorp, bolted like a rabbit being chased by a lion from the start of the race; and would not stop until he ran out of steam 67km into the race.
Khonkobe was not only on record pace (5:18:19 – David Gatebe, 2016), he was also on pace for an astounding sub-5-hour finish. While the experts knew that this relentless onslaught was not sustainable, it made for entertaining watching of the race and also showed just what a class act Khonkobe is. (More on him later).
Behind him a pack of 5 men (Tete Dijana, Edward Mothibi, Dan Matshailwe, Johannes Makgetla and Joseph Manyedi), all from Nedbank, ran as a team. All five, as well as Khonkobe, were from the same training group in the North West. They had planned the race to the finest detail. Khonkobe would go out as the proverbial hare and set a blistering pace to keep the non-Nedbank runners guessing, while the pack of 5 would remain together.
It worked, as all five finished in the top 7 of the race with only three time winner, Bongmusa Mthembu (4th) and Nkosikhona Mhlakwana (6th) splitting the top 7. The Nedbank team had come close to an unprecedented top five clean sweep and changed the face of the race forever.
All five are back for the 2023 Comrades Marathon, again a Down Run due the ongoing roadworks in and around Pietermaritzburg; and all five have prepared in much the same way as in 2022. The only difference is that the opposition is now forewarned. As they say in the classics - forewarned is forearmed. With all that said, let's look at the top contenders.
Tete Dijana (Nedbank)– 1st, 2022
Tete Dijana has to be considered as favourite to defend his title. The 34-year-old, when searched for on the two most accurate and commonly used athletics statistics pages, World Athletics and Tilastopaja, does not have a deep record to his name. For example, there is no official marathon personal best. World Athletics only have four official races behind his name, starting with a 5000m (14:48.23) in 2011, no records until 2021 where he is listed as running a 65:46, another 5000m in 2022 (15:01:60) and his 50km time of 2:39:04, run in 2023. Tilastopaja only reflect results from 2022 and 2023, crediting him with a 29:57 for 10km and 1:08:10 in the half marathon and his 50km time. The German Ultramarathon Statistics page, DUV, sheds more light on his ultra record, as the aforementioned pages have not, until recently when the 50km became an official WA distance (up until recently, WA only kept records until the marathon and the IAU were responsible for anything beyond the marathon).
Here we find that Dijana has quite the Ultra pedigree. 3rd at the 2020 Om Die Dam, 2nd in the 2022 Nedbank Runified 50km Ultra (2:44:09) and his only other outing at Comrades in 2019 of 47th (6:25:03). Dijana and his training compatriot Edward Mothibi were the last two standing in the 2022 Comrades Marathon after Khonkobe's blistering assault, racing together from around 20km to go, before Dijana moved away with roughly 10km left and opened a gap of just over 3min on the 2019 champion. Based on his 2:39.04 run at this year's Nedbank Runified 50km (faster that the official World 50km record of Stephen Mokoka, 2:40.13) and how he flew away from the field in the final kilometre, Dijana is in better shape than he was in 2022. Ominous signs indeed.
Edward (Slender) Mothibi (Nedbank)– 2nd, 2022/ 1st, 2019
Edward Mothibi has an impressive Comrades Marathon record. Fourth on debut in 2018, Mothibi claimed victory in only his second outing at The Ultimate Human Race when he defeated the defending champion and three-time winner, Bongmusa Mthembu in a titanic battle in 2019; and then 2nd in the 2022 edition of the race. Mothibi is well known for his systematic approach to racing. In 2019 when he won the race, he only placed 95th at the Two Oceans Marathon, coming into the finish in 3:53:23. Compare that to the approach of Bongmusa who won the race in 3:08:29. Mothibi was clearly racing on fresher legs. He followed a similar approach in 2022, competing only in the Nedbank Runified 50km in March where he finished 3rd. His next race was Comrades (in August in 2022 due to the Covid-19 pandemic). In 2023 he again has approached his preparations for Comrades in similar fashion, running in the Runified 50km in late February where he finished 3rd with a new personal best of 2:45:27. His marathon personal best of 2:13:54 from 2021 shows there is speed in those legs and he will have to be considered as a challenger for the win again.
Bongmusa Mthembu (Arthur Ford) – 4th, 2022
Dubbed the greatest ultramarathoner in the world in 2018 by virtue of his 5th in Two Oceans, 3rd at the World 100km Championships and his win in the 2018 Comrades Marathon, Bongmusa Mthembu - Bongs to his friends - brings with him an ultrarunning record that cannot be ignored. After a 'slow' start to his ultra career when finished 54th in the 2006 edition of the Comrades Marathon, and taking a couple of years to learn how to run the race (31st – 2007, 52nd -2008), Mthembu has featured in the top ten at Comrades on nine of his last 11 runs; and on the podium seven times, with three wins.
He has also finished 2nd and 3rd at the World 100km Championships (2016/2018), finished in the top ten at Two Oceans on three occasions, with a win in 2019. Mthembu's vast experience came to the fore in the 2022 Comrades Marathon where he let the Nedbank quintet go and ran his own race, gradually carving up the field in the latter stages of the race to finish in 4th.
His approach to the Comrades Marathon in 2023 is vastly different to that of previous years. Mthembu has for the first time in his running career competed in the Om Die Dam 50km which he won in 2:56:33 and will be foregoing the Two Oceans Marathon (15 April), giving his body more time to recover for The Ultimate Human Race. With his vast experience and pedigree and intimate knowledge of the race, Bongmusa Mthembu will be a factor come race day.
Nkosikhona Mhlakwana (Hollywood Athletics Club) – 6th, 2022
He is still considered as the 'New Kid on the Block', but there is a racing acumen within the mind of Nkosikhona Mhlakwana that speaks to a very experienced ultramarathoner. Debuting at the 2019 Comrades Marathon with an 11th place finish, Mhlakwana succumbed to cramps lying in 9th place with the finish line literally in sight metres away. So bad were the cramps that he had to hold on the side barriers before making his way to the finish. In the process he was passed by two other athletes. Since then though he is a different athlete.
Wins in the 2021 Ultra Trail Drakensberg 62km and Mangosuthu Buthelezi 52km coupled with an 11th at Runified 50km and 16th in the Ultra Trail Cape Town 100km, showed he had developed immensely. But it was his 2022 Two Oceans Marathon second place finish, where he went toe to toe with Ethiopia's Edndale Belachew and only having to give way to the latter's faster leg speed on the grass at the finish area at UCT, that Mhlakwana announced his pedigree as an ultramarathoner to be reckoned with. Mhlakwana finished 6th in the 2022 Comrades Marathon. He has chosen to make the 2023 Two Oceans Marathon a big focus and with the 8 weeks recovery available between the two races, Mhlakwana will be looking for a top ten position in 2023.
Dan Matshailwe (Nedbank) – 3rd, 2022
Another one from the stable of Dave Adams in North West is 29-year-old Dan Matshailwe who finished 3rd in the 2022 Comrades Marathon. Matshailwe was a novice in the 2022 race between Pietermaritzburg and Durban, but that did not deter him. It was only in the final stages of the race that he had to give way to his more illustrious teammates, Tete Dijana and Edward Mothibi. But Matshailwe comes with pedigree. A 2:14:06 marathon shows there is some speed in those legs and the Down Run is one that does tend to favour the speedsters. Matshailwe will have learned a substantial amount in training with Mothibi and Dijana and in last year's race; and will have to be considered as a contender again for a podium position.
Joseph Manyedi (Nedbank) – 7th, 2022
If one looked at Joseph Manyedi on his debut at the Comrades Marathon in 2015, few would have that he would be a major contender, after all he crossed the finish line in 235th position. A year later it was 140th and in 2017 he crossed the line in 176th. Nothing to get excited about, especially as a year later he was still only 115th. But that was the yar everything changed and in 2019 he was a different athlete. Manyedi won the Om Die Dam 50k that year and finished 5th at Comrades while also finishing just outside the top 10 at the World 50km Championships in Brasov, having to settle for the worst position in racing, 11th.
Just before the Covid Pandemic shut down racing in South Africa, Manyedi was 9th at the Om Die Dam in 2020 and showed his potential a year later at the Nedbank Runfied 50km finishing in 12th.
Manyedi continued his improvement in 2022 by making the top ten at the Runified 50km (9th) in 2022 before going on to come home in 7th in the Comrades Marathon last year. Manyedi is wiser, stronger and dangerous. At 40-years of age he is still fiercely competitive and will once again be in the mix to challenge for at least a top 10 finish in the 2023 race.
Mahlomola Sekhonyana (Hollywood Athletics Club) – 4th, 2019
He is looking like his ominous self from 2019 as Mahlomola Sekhonyana looks to once again challenge for a top five position in the Comrades Marathon. In preparation for 2019, Sekhonyana ran a marathon personal best of 2:27:58. In 2022 he brought that down to 2:25:16. Sekhonyana has been quietly going about his business in preparing for the big day. It was this very same quiet preparation that saw him finish 4th in 2019. Sekhonyana is older and wiser and his preparations will be meticulous without any fanfare. Not for him, the posting on social media; it is all about the work he puts in. Under guidance of Mdu Vura Khumalo, Sekhonyana has developed into a very dangerous adversary for the big day on 11 June.
Onalenna Khonkhobe (Nedbank)
There is no finish next to the name of Onalenna Khonkhobe for the simple reason that the was the man who went out at a blistering pace as the unofficial pacemaker for the Nedbank team in 2022. Khonkhobe broke away very early into the race and was on what the experts called a suicide mission. He went through halfway in 2:26:30 and was on course for a sub-5-hour finish. Many believe that had he gone out at record pace (5:18:19) and not at sub-5-hour pace, he may well have not only hung on the lead and finished; but could well have rewritten history and record books. With the race now officially finishing at Hollywoodbets Kingsmead, the race will be at least 1km shorter than in previous years when the race finished at Moses Mabhida. Chances of the record going are now very high and Khonkhobe could well be instrumental in that. Surprisingly Khonkhobe has no official marathon time with the global statisticians, but his 1:03:13 half-marathon time run in 2022 will give anyone an indication of just what speed this man has at his disposal. Khonkhobe was 6th in the 2022 Two Oceans Marathon and 2nd at the N12 Ultra 50km in 2022 in the build-up to last year's Comrades. This year he showed once again that he is in shape by finishing 2nd at the Runified 50km in Gqeberha at the end of February, clocking 2:39:41, also under the previous record set by Stephen Mokoka.
Dangermen:
Other athletes to look out for who will be in the challenge for a top ten placing are last year's 10th place Lutendo Mapoto. Finishing second in the 2020 Om Die Dam Marathon was his big breakthrough as he went from a best place of 19 in the 2017 Comrades Marathon into the top 10 in 2022. Perennial dangerman, Gordon Lesetedi finished in arguably the most hated position in racing, 11th in 2022. Lesetedi will be looking to get back into the top after finishing 9th in 2019 and 6th in 2018.