Jorge Martin capped a perfect Saturday by winning the sprint race at the San Marino and Rimini Riviera MotoGP not long after smashing the Misano Adriatico lap record on his way to claiming pole position.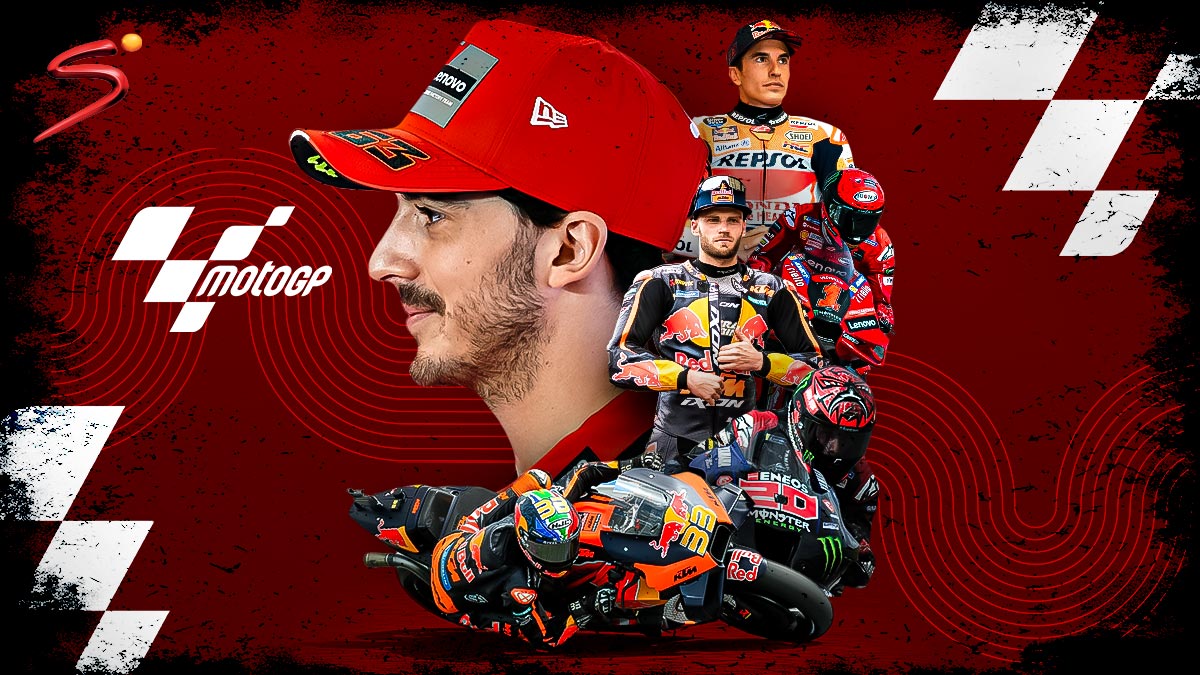 Pramac rider Martin is now 45 points behind world champion Bagnaia ahead of Sunday's GP after winning his third sprint of the season from pole, 1.445 seconds ahead of Marco Bezzecchi on a hot day at the Italian track.
Martin was on pole after chopping the Misano Adriatico lap record clocked by VR46 rider Bezzecchi on Friday by nearly half a second in qualifying on Saturday morning.
He will start there again for Sunday's GP and on the evidence of the sprint is a good bet to claim the honours ahead of his principle championship rivals Bezzecchi and Bagnaia, who both rode through pain to claim podium spots.
"Today was a great day, pole position with a record. I expected it to be more difficult, the first laps," said Martin.
"Marco pushed, pushed, pushed a lot, I had to be at the limit all the time. Hopefully tomorrow I will feel a little bit stronger."
The 25-year-old never looked troubled by the Italian pair chasing him, both of whom were suffering from injuries sustained in crashes at last weekend's Catalunya MotoGP.
Ducati's Bagnaia flew off his bike at high speed at Montmelo and was then run over by Brad Binder, but has been riding well this weekend and will be aiming to limit the damage to his lead in the overall standings.
Bagnaia showed his skill by overtaking Bezzecchi on the first turn on the 13-lap sprint.
And even if Bezzecchi fired back Bagnaia managed to hold off the threat of Dani Pedrosa despite riding in pain and delighted the supporters in the stands when he crossed the line.
"It was really, really hard. The pain is there especially when leaning right. Let's see what we can do tomorrow," Bagnaia told Sky Sport in Italy.
"These are injuries that we should be resting but we can't do that so we'll do what's possible. I thought it might get better today but instead the pain was pretty constant, especially in the early laps."
Bezzecchi, who sits third in the overall standings, gained two points on Bagnaia to cut the gap between him and his countryman to 69.
The 24-year-old has been nursing a hand injury which he picked up during the multi-bike pile up which preceded Bagnaia's accident last Sunday and admitted that he didn't have much chance of catching Martin.
"It was very difficult, but you know we are in Misano and I had to keep myself strong to give a good show to the fans," he said.
He later added to Sky Sport: "My hand started to hurt but Jorge was really fast, I don't know if with a good hand I could have done anything, unfortunately I've riden all weekend with a crippled hand. I'm happy regardless."
Marc Marquez finished 10th and failed to add to his meagre championship points tally of 22 as rumours continue to circulate about the six-time MotoGP champion's potential move to Ducati's satellite Gresini team for next season.
Ducati's racing CEO Claudio Domenicali remained tight-lipped about the possibility, saying he was "interested and amused" by the reports and happy that the Italian manufacturer's bikes were so well regarded.
RESULTS
Jorge Martin (ESP/Ducati-Pramac) 19min 58.785sec,
Marco Bezzecchi (ITA/Ducati-VR46) 1.445sec, 
Francesco Bagnaia (ITA/Ducati) 4.582,
Daniel Pedrosa (ESP/KTM) 4.772,
 Brad Binder (RSA/KTM) 4.931,
Maverick Vinales (ESP/Aprilia) 6.062, 
Luca Marini (ITA/Ducati-VR46) 6.519, 
Aleix Espargaro (ESP/Aprilia) 7.893, 
Alex Marquez (ESP/Ducati-Gresini) 9.264, 
Marc Marquez (ESP/Honda) 11.318